Projects:
OVERVIEW
The eukaryotic cell nucleus is a densely packed assembly of DNA, RNA, chromatin, and other nuclear bodies, including the nucleolus. How is the nucleus organized, specialized across cell types,  maintained over time, or alternatively, remodeled in response to stimuli? How does this organization affect gene expression and cell function? Our work draws from cell biology, biochemistry, and systems biology to answer these questions.

The protein structures of the nuclear periphery facilitate the non-random organization of nuclear contents, in turn promoting specialization of cell function. The nuclear lamina is a protein meshwork that underlies the nuclear membrane, where it shapes and supports the nucleus. Our work focuses on the roles of the nuclear lamina in establishing and maintaining nuclear organization.
MAINTENANCE OR REMODELING OF NUCLEAR ORGANIZATION
The nuclear lamina scaffolds roughly 30% of the genome and 10% of coding genes in lamin-associated domains (LADs) at the nuclear periphery. LADs are heterochromatic domains that promote cell identity by restricting gene expression.
In higher eukaryotes, the nucleus is entirely disassembled each time a cell divides. However, many cells within functioning tissues have exited the cell cycle. In these cells, how long does nuclear organization endure?
Using metabolic labeling and proteomics in muscle cells, we found that lamin A turns over at a rate similar to many nuclear proteins, while lamin B1 and Lamin B2 are extremely stable.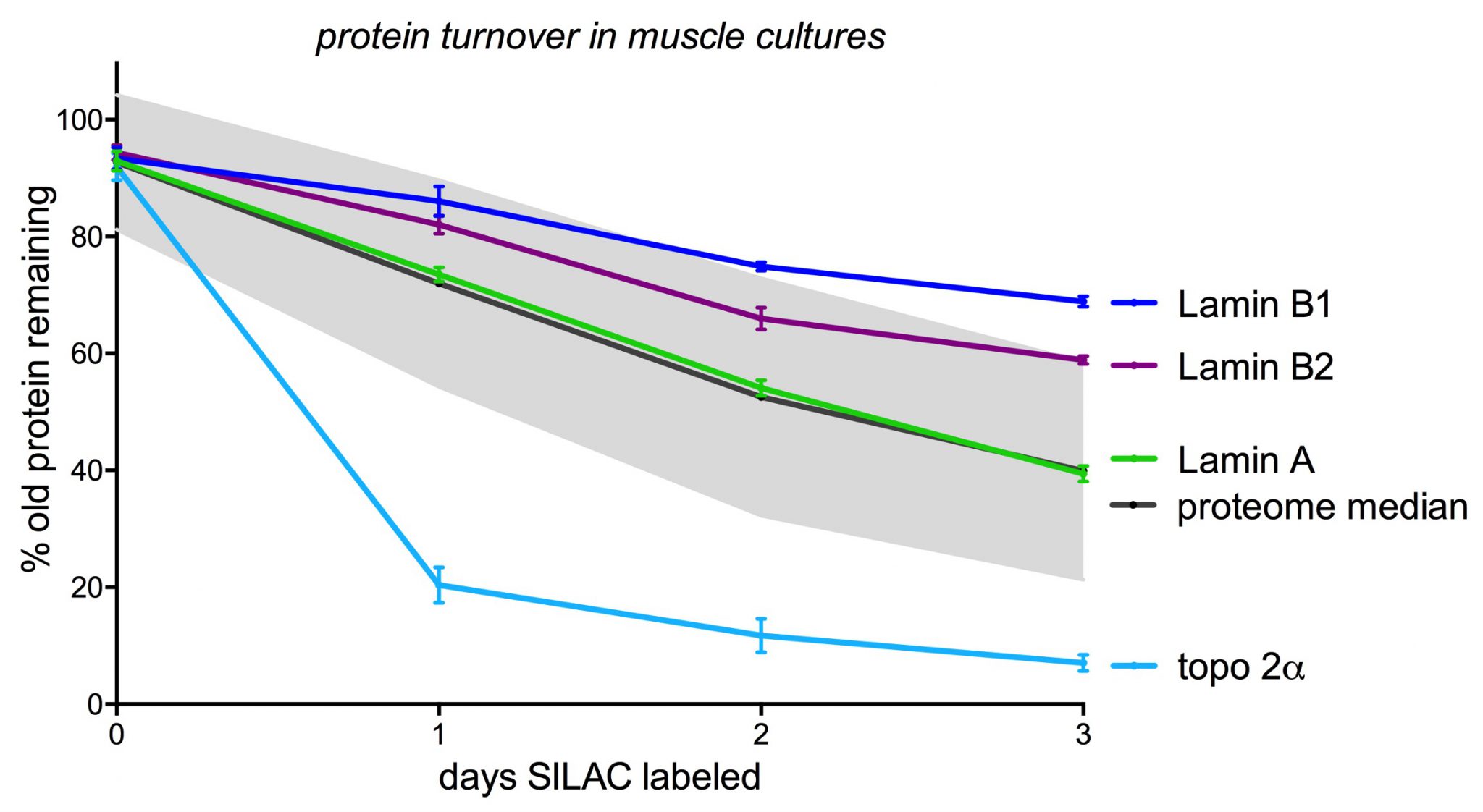 This implies that a mechanism exists to replace lamin subunits, and that A- and B-type lamin isoforms contribute to nuclear organization on distinct timescales. Future work will define the machinery that turns over lamin A, and determine how manipulating lamin turnover affects nuclear organization and cell function in health and disease.
DEFINING NOVEL ROLES FOR THE LAMINA
We recently found evidence that lamin A regulates the activity of the nucleolus; when cells are either depleted of normal lamin A, or forced to express a mutant form of lamin A that causes progeria, nucleoli expand and become more active. As the site of the energy-intensive process of ribosome biogenesis, nucleoli are exquisitely sensitive to inputs from signaling pathways, and their output shapes cellular metabolism.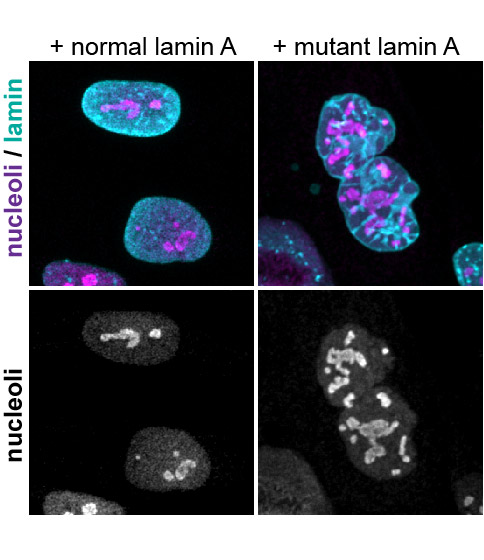 This finding suggests a novel function for the lamina that appears to be disrupted in at least one lamin-linked disease. Future work will define how the lamina regulates the nucleolus. We will also explore how nucleolar function changes with developmentally programmed changes in lamin A expression.
DISRUPTION OF NUCLEAR ORGANIZATION DURING AGING
Hutchinson-Gilford progeria syndrome (HGPS) is an accelerated aging disorder caused by a mutant form of lamin A termed progerin. We discovered that normal lamin A represses nucleoli, and that this repression is lost in progeria. This allows over-production of ribosomes and hyperactive protein synthesis, which depletes cellular energy stores.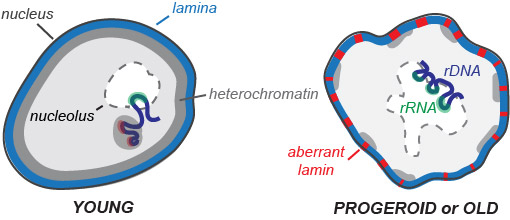 We were also able to apply what we learned from progeria to the normal aging process. We found that within human skin cells, nucleoli expand and produce more ribosomal RNA as we age. What drives this? What are the consequences of this on cellular fitness and aging progression? Future work will address these questions.
Featured Publications:
Buchwalter A, Kaneshiro JM, Hetzer MW. Coaching from the sidelines: the nuclear periphery in genome organization. Nature Reviews Genetics, in press.
Buchwalter A, Hetzer MW. Nucleolar expansion and elevated protein translation in premature aging. Nature Communications 2017 Aug 30;8(1):328. http://buchwalterlab.ucsf.edu/wp-content/uploads/2018/09/Buchwalter-and-Hetzer-Nat-Comms-2017.pdf
Goodchild RE, Buchwalter A, Naismith TV, Holbrook K, Billion K, Dauer WT, Liang CC, Dear ML, Hanson PI. Access of torsinA to the inner nuclear membrane is activity dependent and regulated in the endoplasmic reticulum. J Cell Sci (2015) 128(15): 2854-65.
Buchwalter A, Liang, Hetzer MW. Nup50 is required for cell differentation and exhibits transcription dependent dynamics. Molecular Biology of the Cell 2014 Aug 15;25(16): 2472-84. http://buchwalterlab.ucsf.edu/wp-content/uploads/2018/09/Buchwalter-Liang-and-Hetzer-Mol-Biol-Cell-2014.pdf
Buchwalter A, Liang Y, Hetzer MW. Nup50 is required for cell differentiation and exhibits transcription-dependent dynamics. Mol Biol Cell (2014) 25(16): 2472-84.
Vander Heyden AB, Naismith TV, Snapp EL, Hanson PI. Static retention of the lumenal monotopic membrane protein torsinA in the endoplasmic reticulum. EMBO J (2011) 30(16): 3217-31.
Vander Heyden AB, Naismith TV, Snapp EL, Hodzic D, Hanson PI. LULL1 retargets TorA to the nuclear envelope revealing an activity that is impaired by the DYT1 dystonia mutation. Mol Biol Cell (2009) 20(11): 2661-72.
Buchwalter A, Van Dort C, Schultz S, Smith R, Le IP, Abbott JL, Oosterhouse E, Johnson AE, Hansen-Smith F, Burnatowska-Hledin M. Expression of VACM-1/cul-5 mutant in endothelial cells induces MAPK phosphorylation and maspin degradation and converts cells to the angiogenic phenotype. Microvasc Res (2008) 75 (2): 155-168.
Johnson AE, Le IP, Buchwalter A, Burnatowska-Hledin MA. Estrogen-dependent growth and estrogen receptor (ER)-alpha concentration in T47D breast cancer cells are inhibited by VACM-1, a cul-5 gene. Mol Cell Biochem (2007) 301 (1-2): 13-20.
Drenan RM, Doupnik CA, Jayaraman M, Buchwalter AL, Kaltenbronn KM, Huettner JE, Linder ME, Blumer KJ. R7BP augments the function of RGS7-Gb5 complexes by a plasma membrane-targeting mechanism. J Biol Chem (2006) 281: 28222-28231.
Buchwalter A, Kaneshiro J, Hetzer MW. Coaching from the sidelines: the nuclear periphery in genome organization. In press, Nature Reviews Genetics (2018).
Buchwalter AB, Hetzer MW. Nuclear pores set the speed limit for mitosis (preview). Cell (2014).
JOIN
WHY JOIN US?
Our mission is to make meaningful contributions to science while fostering an inclusive laboratory culture that values both individual growth and effective teamwork.  We believe that a diversity of perspectives makes for a stronger, more creative team.
GRADUATE STUDENTS
We are accepting rotation students! Email Abby to learn more about potential projects.
POSTDOCTORAL FELLOWS
We are accepting applications from interested postdoctoral fellows. Contact Abby with your CV and a cover letter describing your previous work, future goals, and why you would like to come work with us.
LABORATORY STAFF
We are seeking a staff research associate to join our group – please see this job posting to learn more and apply.
Awards:
Best Postdoctoral Presentation, Salk/UCSD Biology Program Retreat, 2015 Young Investigator Award, Alternative Muscle Club Meeting, 2015 Spencer T. and Ann W. Olin Fellow (Dissertation Award), 2011 Sigma Xi Undergraduate Research Award in Chemistry, 2005 Undergraduate Travel Award, Association for Biochemistry and Molecular Biology Meeting, 2004 Stavros Niarchos Foundation New Frontiers Salk Researcher Specialist Award, 2016 American Society for Cell Biology COMPASS Outreach Grant Award, 2014